Miss Qudsia Naseer
Lecturer (On study leave)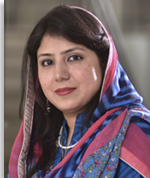 Introduction
She holds an M.Phil degree in Management from Institute of Administrative Sciences, PU. She secured first position in her M.Phil program. Previously she obtained an MBA degree in Finance from IBA with distinction. In 2007, she followed her teaching interest and joined IBA, PU. With over 8 years of experience she is passionate to contribute towards developing a better society through her profession.
She has presented her paper in international conference. At present she is supervising thesis of five MS students. Her teaching experience spans both graduates and masters level teaching in the area of Accounting, Finance, Management, Human Resource Management and Quantitative Techniques applicable in Management.
She is In-charge workshops at IBA, and has conducted various workshops on the topics of SPSS and employability skills.
Designation:- Lecturer (On study leave)